Invisalign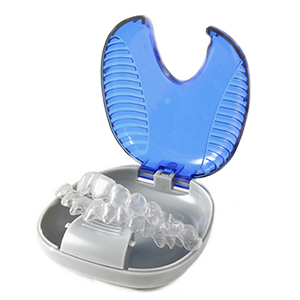 Our doctors have successfully treated more cases with Invisalign than 99% of doctors in North America! We are the #1 providers of Invisalign and Invisalign Teen in the state of Indiana, and Drs. Gorman and Bunch were specifically selected by Invisalign to teach this technique to certify new orthodontic residents at the Indiana University School of Dentistry. With the use of our digital scanner we can create a precise 3D model of your mouth without the gooey impressions of the past. Once the scan is complete, the doctors use the 3D images to create a personalized treatment plan for the precise movements needed to transform your smile. Your custom-made, clear aligners are worn for 22 hours a day, removed only for eating, brushing, and flossing your teeth. You will change to fresh, new aligners every 1-2 weeks until your teeth have been seamlessly straightened.
With Invisalign clear aligners, you can improve your lifestyle without dramatically changing it. No food restrictions, no metal brackets and wires, and fewer appointments are just some of the reasons adults and teens alike love how easily Invisalign fits with their lifestyle. And to top it all off, the aligners are virtually invisible, meaning people won't even know you're straightening your teeth! We specialize in complex and teen cases, so if you've ever been told you aren't a candidate for Invisalign, we'd love to sit down with you and talk about options.

Invisalign Teen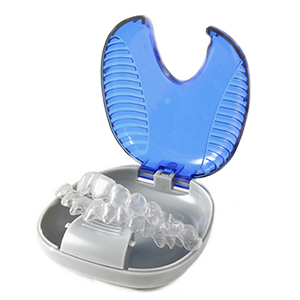 At Gorman & Bunch Orthodontics we are Indiana's leading provider of Invisalign and Invisalign Teen. In fact, Dr. Gorman and Dr. Bunch were specifically selected by Invisalign to teach the certification course to the orthodontics residents at the Indiana University School of Dentistry! We have successfully treated countless teens with all types of orthodontic concerns, and while many parents have worried that their child would not wear the aligners as they should, we have seen quite the opposite. In fact, most of our Invisalign Teen patients are more consistent with their aligner wear than our adult Invisalign patients!
Our patients love Invisalign Teen, and so do we. The aligners are comfortable and clear, making it the most esthetic option available for orthodontic care during important times like school photos, graduations, performances, and more. Also, the elimination of brackets and wires makes Invisalign Teen is a great option for athletes who are concerned about protecting their mouth and lips during sports. In addition, our Invisalign Teen patients have fewer appointments, no wire pokes, and no food restrictions!
Lastly, because the aligners are removable, we have seen much better oral hygiene in our Invisalign Teen patients than our traditional braces patients, meaning healthier teeth and gums and fewer of those dreaded "white spots" on the teeth after treatment. We'd love to talk to you and your child about how Invisalign Teen can set them up for a lifetime of smiles without the hassle of brackets and wires!

How do braces straighten crooked teeth?
Braces use constant, gentle pressure, which over time moves the teeth into their proper positions. Your braces are at work every moment of your orthodontic treatment. The two main components of your braces are: 1) the brackets that are placed on your teeth and 2) the main archwire that connects them. The bracket is the individual clear or metal "brace" that we affix to each tooth. The wire threads through the brackets and applies gentle pressure to move your teeth into ideal alignment. Sometimes we will ask you to wear rubber bands (elastics) from the upper to lower teeth to help with bite correction. These will only be effective if used as instructed, so proper wear will help you be done with braces and showcasing your new smile sooner!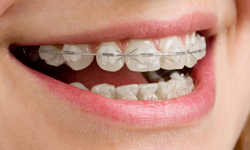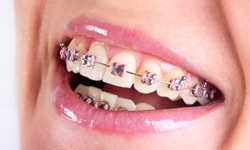 Different Types of Braces
We have the most up to date options when it comes to braces. Classic metal braces are popular with kids and teens who like the idea of changing colored ties each visit. These braces are much smaller than ever before, which means more comfortable and less of a food trap! If metal isn't your thing, we also offer clear ceramic brackets that blend with your natural tooth structure. A moresubtle approach, but still the same great results.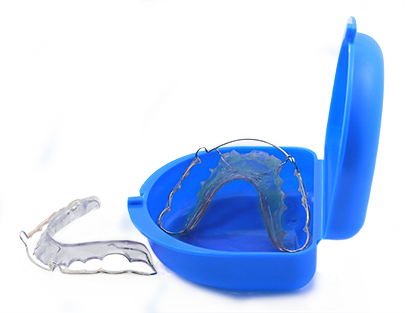 So you've made it to the end and you're ready to show off the new you—what's next? After orthodontic treatment with either braces or Invisalign, you still have one very critical step left: retainers. Your retainers will maintain the work you did and keep your smile perfect for a lifetime, but they only work if you actually wear them! The doctors will tell you how long you need to wear your retainers full time, and after that you can wear them just at night. It's hugely important that you wear your retainers as instructed, as they are designed to hold your teeth in their new positions until your bone, gums, and muscles adapt. This will ensure the teeth will be stable in their new and improved locations.
IMPORTANT TIPS
Remember: wear them in your mouth, not in your pocket!
Retainers work when you follow our instructions.
Clean your retainers! After meals, clean all parts of the retainer with a toothbrush.
Handle your retainers with care, and keep them away from pets.
Retainers are easy to lose. If you take your retainers out, always place them in your retainer case for safety.
Our doctors follow the guidelines established by the American Association of Orthodontists in recommending that every child have an orthodontic evaluation by age seven or sooner if an orthodontic problem is present. This early evaluation can help to determine the best time to begin any necessary treatment and allow us to watch growth patterns as your child develops, allowing early detection and timely treatment should any issues arise.
Many progressive treatments are now available for patients seven to eleven years of age that provide significant benefits, especially when jaw irregularities are present. These treatments may also prevent certain conditions from worsening. Treating children with these types of problems during their growth stages allows our practice to achieve results that may not be possible when face and jaw bones have fully developed.
The goals of Phase I treatment are to:
Gain proper width of the upper and lower jaws.
Create room for crowded teeth to come in.
Align the jaws to allow proper growth.
Reduce the risk of trauma to protruding teeth.
Hold space for permanent teeth that need to come in.
Reduce the need for tooth removal.
Reduce treatment time with braces.
Minimize the need for surgical treatment with certain growth patterns.